What is APC?
APC – All purpose cleaner is a multipurpose cleaner. Depending on dilution, can be used to clean various surfaces inside and outside the car. Our APC is available a concentrate, which, depending on the needs, can be diluted from 1:50 for mild grime up to 1: 4 when cleaning, for example, the engine bay.
We would like to show you the multi-tasking nature of this product and how to use it. Let's start with what you will need in addition to APC. Mixing bottles, brushes, brush, sprayer and microfiber.
Let's prepare wanted solutions and get started!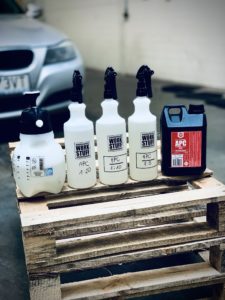 1. Washing rims and tires
In this case, we used a strong 1: 5 solution. Rims were very dirty and the tires needed thorough cleaning. It is worth rinsing the elements pressure washer before starting work. We spray the surface generously with the product and brush the dirt off Important advice – it is a good idea to "soak" them with the product by spraying the bristles before using the brush.
The product is suitable for cleaning aluminum rims and hubcaps.
We do not use it with bare aluminum or chrome rims. Prepiared tires are ready for the dressing.
2. PREWASH 
The next step is pre-washing. In this case, active foams and spraying to remove road grime . APC, thanks to its alkaline pH and appropriate dilution, will be perfect for this. It will be useful to all those who do not have foamers or when washing in touchless car washes.
The product is applied with a pressure sprayer at a solution of 1:5. About 1.5L of finished product is enough for a station wagon. After about 2-3 minutes, we rinse the product with pressure washer, and you can see the effect on the unprotected paint yourself.
3. Cleaning outside tron of the car
We prepare a solution of 1:10 and use a detailing brush to clean all elements such as emblems, grill, window seal and the fuel filler.
4. Washing the engine bay
In combination with a suitable tool, which is a hard STIFF brush and a 1: 5 APC Solution, will work while cleaning the engine bay.
5. Cleaning car's interior
A small kingdom in which All Purpose Cleaner feels at home. Choosing the right dilution for interior depends on the dirt.
It's always best to start with a weaker dilution and possibly increase the power. In most cases, a solution of 1: 20-1: 10 is sufficient for regular care. We decided to use a solution of 1:20.
When cleaning the interior, brushes and at least two microfibers will be useful. One is wet to remove excess product, and the other is dry to properly wipe surfaces dry. A foaming bottle is also a useful gadget, which you can create foam directly on the brush. This is especially important in places where you don't want to make a mess.
APC – perfectly cleans plastic and rubber surfaces. It's also perfect for cleaning seat rails. Its task is to prepare the surface for dressing application. Remember not to use the product for leather. There are dedicated products that will work best.
6. Cleaning the floor mats
Cleaning the rubber floor mats? When cleaning them, APC can also be used. Just like when washing tires, we choose a higher dilution – we suggest 1: 5. Just like in the case of engine bay, we use a hard brush to clean the surface as well.
Before starting work, be sure to rinse the floor mats with pressure washer.
We have showed you 6 ways to use APC. We hope you find the information in this post helpful! Our product is distinguished by a non-suffocating formula that will be appreciated by everyone working with such products inside the car.
The product itself is available in 4 sizes and two scents of Apple and Green Tea. Do you know other ways to use APC in your car? Share in the comments section. We are also curious about your opinion on the above guide!